About Me
Currently enjoying a revival, lampworking is a centuries old technique of making glass beads. Older traditional methods involved the use of oil lamps, hence the name "lampworking". And even though lamps and bellows have been replaced by propane and oxygen fuelled torches, the magic remains the same.

Rods of glass are heated in the torch until molten and then wound around a steel mandrel - this creates the hole through the bead. The glass is wound on, shaped, decorated and flame polished, a process that is simple to learn yet difficult to master.
Once the bead is complete it is then placed into a kiln which runs through an annealing cycle. This relieves the stress in the glass that the heating and manipulation of the lampwork has created. After annealing, the beads are removed from the mandrels and cleaned.

All my beads are hand made by me in my studio in Sydney, Australia and go through the proper annealing process. I primarily use soft glass from Italy and the US, for their quality, vibrancy and colour range. My unique beads will enhance and complement your jewellery designs beautifully.
Unless I'm exhibiting elsewhere my work is on show at
Oz Frames & Blockmounts
2a Marco Ave
(Cnr The River Rd)
Revesby NSW 2212
02 9773 6000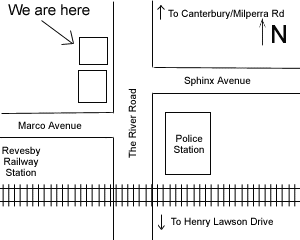 Business hours
Monday - Friday 10am - 5pm
Thursday - 10am - 6.30pm
Saturday - 9am - 2pm